Do you know how to handle a PR crisis?
If you're going to align your brand with a cause, you'd better live and breathe those values – as high-end fitness clubs Equinox/SoulCycle learned the hard way this month.
Equinox has supported the LGBT community for a few years now. Their most recent effort was June's Life's a Ball Pride campaign:
"'Life's a Ball' honours the power and magnificence of trans women of color in their performance element and shares a message of equality, fostering sisterhood and expressing pride all through movement."

Equinox
SoulCycle has always been a champion of diversity and community, with its website stating: "Our inclusive community welcomes and embraces every soul, always."
In what was supposed to be a game-changing week for Equinox and SoulCycle, they announced a partnership in a 'first-of-its-kind, on-demand digital fitness platform', aiming to take on their direct competitor, Peloton.
How (Not) to Handle a PR Crisis
But an unfortunate news story broke about the billionaire owner of the clubs, Stephen Ross.
A report emerged that he was planning to host a Hamptons fundraiser for President Trump that very same week, charging up to $250,000 for lunch, a photo and a private roundtable with the President. And it did not go down well among on social media, with members of SoulCycle and Equinox publicly protesting and calling for boycotts.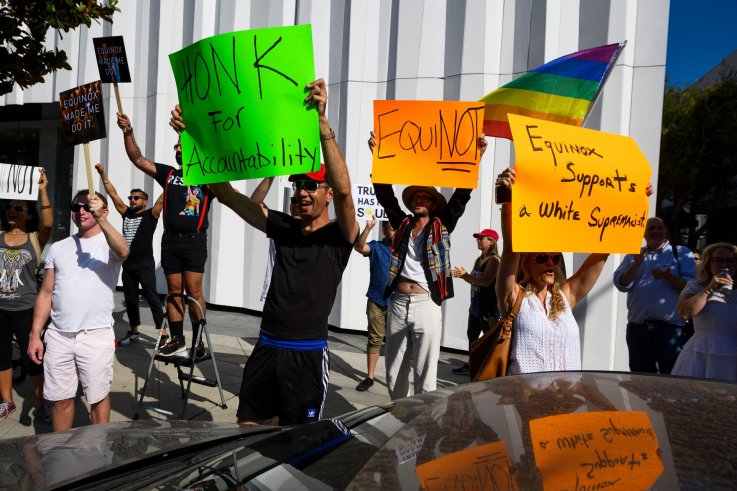 Ross released a statement the day after the story broke:
"I have known Donald Trump for 40 years, and while we agree on some issues, we strongly disagree on many others and I have never been bashful about expressing my opinions. I have been, and will continue to be, an outspoken champion of racial equality, inclusion, diversity, public education and environmental sustainability."

Stephen Ross
Equinox and SoulCycle responded to the social media storm with the following statements:
The statements did not go down too well with some commenters.
"Sorry, but Mr. Ross is the CHAIRMAN of the Board of Directors and 60% owner of The Related Companies – the company that owns Equinox. How is he only a "passive investor"? Try again."
"Mr. Ross is a passive investor which means he makes money when the company makes money and he uses his money that he makes from member fees to support Donald Trump."
"As a member for almost 5 years, I am basically a passive investor in Equinox. As such I chose today to cancel my membership because I will not support a company that in ANY WAY SHAPE OR FORM is associated with ANYONE who supports the racist and toxic rhetoric of Donald Trump."
Take Responsibility
Hindsight is always 20/20. And this was a very flammable political faux-pas, so it was always going to be a challenge for the brands to make things right. But the main reason these statements got it wrong is that they tried to evade responsibility and completely distance themselves from the problem.
Solution: Test your crisis comms with a focus group before releasing them to the world. Be honest, and apologise. Have empathy with your customers and see it from their perspective.
Embody the Values You Align Your Brand With
This one is arguably more straightforward for smaller brands, with closer-knit teams and open cultures across team structures – but it certainly doesn't mean larger corporations should shrug their shoulders and say, "we had no idea of the association."
It's absolutely essential that you make sure that nothing will compromise the authenticity of your alignments with causes and values. It takes years to build a strong brand, and only seconds to destroy it.
Solution: Ensure your values are watertight and avoid any kind of political associations that would betray the brand values. If you can't guarantee it, do not align your brand with a cause, and focus on what you can do – in Equinox's case, fitness.
Make Amends
Equinox had the right idea with their decision to donate $1 million to LGBTQ causes.
But they fanned the flames of the PR crisis by using the fundraising as a method to entice members to stay with Equinox.
According to reports, Equinox is "pitting five charities against each other to win a share of a million dollars, and you can only vote if you don't cancel your membership."
Solution: Don't make it about you. While the donation is admirable, and certainly a good PR move, many were outraged that the brand was using it as a means to retain members.
It can be hard to think about the long game when you're thinking about how to handle a PR crisis, but it's important to step back and try to see the bigger picture. Honesty and transparency are valuable traits, and if your brand suffers a disaster, try and remember that instead of jumping on the defensive, people will appreciate a more humble, human response. Be quick, but don't rush. Take your time to thoroughly sense-check your solution, run it past trusted advisors, take responsibility and make amends – without making it all about you.
Liked this? You might like this: Five Ways To Create Incredible Reactive Social Media Content (With Good And Bad Examples).