Instagram is a seriously powerful tool for influencers and businesses to market their products and services. And in recent months, the social platform has added a ton of new features to help you promote your small biz in even more effective ways, alongside some powerful Instagram metrics to help you track your success.
In this article, we're going to dive into some of these key features, and how to access and track valuable insights that will keep your social marketing strategy on track and aligned with your goals.
Read on to discover the latest Instagram updates, and five key Instagram metrics you should be tracking and how you can use them to supercharge your marketing strategy. Let's go!
Should I Have a Creator or Business Profile? 💼 👨‍🎤
Instagram recognises that there are different requirements for personal users, creators and businesses on Instagram.
If you're a business that wants to see significant growth on Instagram, we recommend switching to an Instagram Business profile, if you haven't got one already. The alternatives are Creator or Personal profiles. Creator profiles do have advanced features like data on unfollows and the option to filter DMs, but lack other options like scheduling and running ads.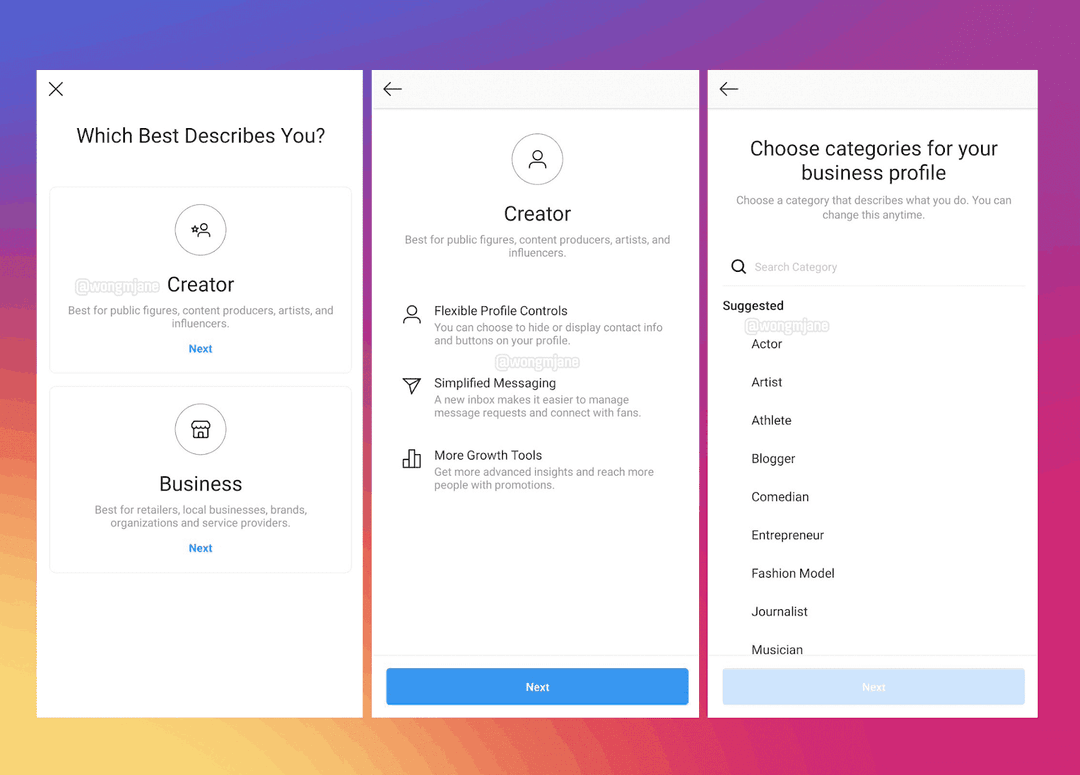 The Benefits of An Instagram Business Profile 💼
Access powerful Instagram metrics about your followers and posts
Option to promote your posts as Instagram ads
Add links to your Stories
Plan, preview and schedule posts with SmarterQueue
The Benefits of An Instagram Creator Profile 👩‍🎤
Get access to the Instagram Creator Studio on desktop
Access creator-specific analytics, including follow/unfollow metrics and engagement stats
Filter your Direct Message inbox
Tag products from brands directly within a feed post
Note: If you have a Personal profile, you won't be able to use third-party tools like SmarterQueue to schedule Instagram posts. This is an exclusive feature for Business profiles.
Which Instagram Metrics Should I Track? 📈
It's important to track the right metrics so you can accurately assess the performance of your content.
#1: Your Bio Link(s) 🏹
With just one link available in your bio, it's important to make the most of it. We recommend using a service like Linktree to create a bespoke page for multiple links, so you can direct your visitors to multiple relevant landing pages, rather than just your main homepage.
This is especially useful for specific blog post or podcast links, so you can direct people to the content you're promoting, rather than having search for it.
It's vital that you include link tracking codes on each of these links to ensure you know what is resonating.
If you have the in-house resources, you could skip using a third-party service like Linktree, and create your own bespoke landing page. This would give you greater creative control over the appearance and content, but it would be more time-consuming to set up.
You can find the number of clicks to your website in the settings section of your Instagram Business profile.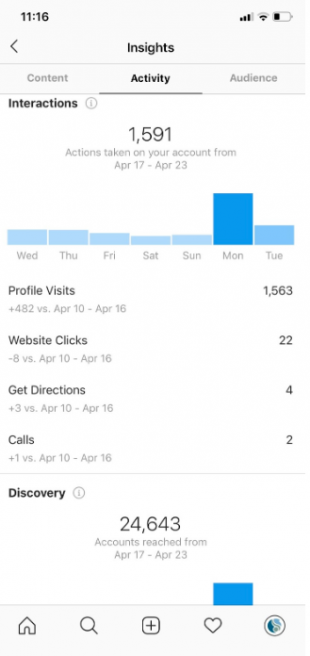 Why this metric is important: One of your main goals with any social platform, if you're a business, is likely to get people to visit your website. Ensure you're always striving to increase this number.
#2: Saves and Shares ✨
It's not all about vanity metrics –– likes and comments are all well and good, but how many people are engaging more privately with your content?
The number of Saves is a great metric to track the performance of your content on Instagram. Take a look at what types of posts get the most saves – is it humour? Quotes? How-tos? Interviews? Tips? Once you've identified the most saved post type, you can understand better how people engage with your content.
Don't be shy: add calls-to-action in your posts reminding people to save the content to read later, or share it with others.
The same goes for Shares. People share content with others, or to their Stories, for a few reasons. The post might be humorous, beautifully designed, spread awareness of a cause, or create a stronger relationship with the post's author, or lend some perceived authority on a subject.
Think about what kind of on-brand content you could create that would encourage someone to share it with their followers.
Let's take a look at a great example of a super-shareable post. You might have noticed an uptick in post shares to Stories during the #BLM protests, with thousands of resources being shared.
This is a great example of a well-designed, digestible, swipe-able post that is designed with sharing in mind.
Take a look at the different posts you've published and determine which ones have had the most saves or shares. You might discover that some images garner a lot of likes, and no shares, or the reverse.
To view the saves and shares for a post, open the post and tap on View Insights.
In the image below, you can see that this humorous post received more shares and saves than comments. This could have been easily missed if you weren't looking out for it!
Why this metric is important: If your post is saved, it's stored in someone's account which means they'll be likely to revisit your profile and discover more of your content. If it's shared, it shows that your content is hitting the right tone and is encouraging people to spread your message, which in turn will help you reach more people!
#3: Weekly Profile Visits ⚡️
It's super important to make your Instagram profile as polished as possible. It's the first thing people will see if they're intrigued enough by one of your posts to come and check out your profile.
You've got plenty of space to make your profile as appealing as possible to new visitors. Your bio, website link, Stories and Story highlights are just as important as the posts on your grid.
Think about what your profile says to new visitors. Is it clear what your business is, what your values are, and who your audience is?
Track your profile visits weekly and set a goal to increase it each week.
Ideas to increase your Instagram profile visits:
Test different images: Spend time on crafting beautiful images that will be eye-catching and stand out from the crowd. It sounds obvious, but that extra attention to detail could be the difference between someone clicking to view your profile or not.
Write engaging captions: You might have an awesome image or carousel to share, but don't scrimp on the captions. Try and write with new users in mind, who may have come across your post on the Explore page. Let them know how awesome the rest of your content is so they're tempted to come and see the rest!
Test text overlays: Instagram isn't strictly photography anymore. Get creative with the way you use the format: miniature 'magazine' style editorial pieces work well as a carousel, and will encourage people to find more on your profile.
Create a consistent theme: Whether it's an Instagram theme or different visual styles for each of your brand pillars, create consistency with a uniform design.
Why this metric is important: Having a user land on your Instagram profile is a bit like having them land on your website –– it's the first chance for you to make a strong impression. Who knows what they could become in the future: customer, partner, influencer?
#4: Which Posts Are Attracting New Followers 🚀
You can drill down to see which of your individual posts are attracting followers.
To see the follows you received from a particular post, open the post, tap View Insights, and scroll down to the Discovery section. The Follows metric tells you how many followers you gained from this particular post.
Compare the types of posts that gain you the most followers. What do they have in common?
Why this metric is important: Attracting new followers is a sure sign that people who discover your content think it's high quality enough to want more of it. It builds authority for your brand and secures a larger audience for your future content.
#5: Hashtags 🧐
Do you know how well your hashtags are performing? Do you use the same hashtags for every post? It's important to assess how many impressions you're getting from hashtags, so you can adjust your hashtag strategy accordingly.
You can access this data in your Post Insights. Find a specific post and tap 'View Insights'. From there, you'll be able to see in Impressions how many came 'From Home' and how many came 'From Hashtags'.
In many cases, you'll use groups of hashtags in your posts, which can make it hard to identify which hashtag got you the most visibility.
SmarterQueue gives you insights into your top hashtags for likes and comments, which will ensure you're not wasting valuable hashtag real-estate on ineffective hashtags.
It's important to ensure the hashtags you use are informed by insights. Once you've looked at your SmarterQueue hashtag insights, spend a bit of time looking at your competitors and industry influencers. Which hashtags are they using? Are there any that you've missed?
When you search for a specific hashtag on Instagram, you'll be shown related hashtags and the number of posts associated with those hashtags:
You can use these related hashtags, alongside your SmarterQueue analytics, to compile lists of hashtags to use regularly in your posts. Save your hashtags in blocks of 30 as Snippets, so when you schedule your Instagram posts in SmarterQueue, you can easily add 30 hashtags to your captions in one click.
Why this metric is important: Instagram hashtags are a key feature of the platform, but you've got to make sure they're working in your favour. Avoid missed opportunities and seize new audiences with the right hashtags.
Conclusion
By monitoring these five Instagram metrics, you'll get a deeper understanding of what content works for attracting followers, website visits, and increasing your engagement and shares.
Create realistic, measurable goals, track consistently, and stay focused on improving your content based on the results, and you should start to see your Instagram account grow exponentially.
Let us know what you think in the comments –– will you be adjusting your Instagram analytics strategy? Have you had any lightbulb moments from these metrics? Let us know! 💡