We chatted to Cris West, Director of Operations at Healthy Stuff, to find out how he drives phenomenal traffic and revenue to his multi-brand business with SmarterQueue.
Cris, could you tell us a bit about your business and your social strategy?
Healthy Stuff is an established, UK-based business that makes and distributes allergy testing kits globally. We've been in business for 20 years.
Before I found SmarterQueue, I managed an in-house social media team of two, who programmed and managed:
42 Facebook channels
4 Instagram profiles
3 Twitter profiles
3 Linkedin profiles
Several Pinterest accounts
Basically, A LOT of social media activity! Pre-SmarterQueue, every single month I had to:
Review our social media plans
Figure out what we needed to focus on (e.g. driving sales in a particular area)
Work out if we had all channels covered with everything we needed
Gather our social team, sit down and individually programme our posts for each channel
At the time, my team's process was to:
Write the content
Get the content professionally translated
Copy the translation to Facebook
Match the post with the images, video, or an article
Move onto the next post, then the next
The following day, they'd come in and begin the process again for a different market
By the end of the month, we had to begin working on the next month! It was a process that took forever!
Did you try other social media management platforms before SmarterQueue?
Yes, but I was always looking for a better solution.
Everyone kept telling me to try Hootsuite or one of the more "well known" social media management platforms. However, they never solved this problem, nor gave us the time-saving ability and efficiency we needed. We desperately needed a strategic, time-saving solution for planning, posting and managing numerous accounts.
I came across SmarterQueue through a social media managers' group on Facebook, after I asked for recommendations:
"I'm looking for a social media management tool, and I don't want to end up paying for features I don't need."
I got a ton of suggestions to check out SmarterQueue. I had a look and got excited – I thought "Wow! This is how the whole business could run. We can set up different schedules for our different brands!"
How did SmarterQueue first impact your team's workflow?
I asked a member of the social media team to review SmarterQueue, sharing my excitement; "This is going to change how our business works!, I'd love for you to have a look over it."
Realising the power of SmarterQueue (it had the potential to replace her job), she began to look for a position that would require the very manual, old way of working.
Because of SmarterQueue, we currently have one person who manages over 50 accounts, which is now only a quarter of his job! His new process is simply to discover new content via SmarterQueue's "Find Content", add it into our Queue and away we go!
SmarterQueue has absolutely and completely revolutionized how we work as a marketing department. Managing and growing our social channels is now so much simpler.
Can you let us know how SmarterQueue has benefitted your business?
Before, when I found great content to share on social, I'd forward it to our social media manager. Now – I don't have to, because he's already found it and scheduled it through Find Content!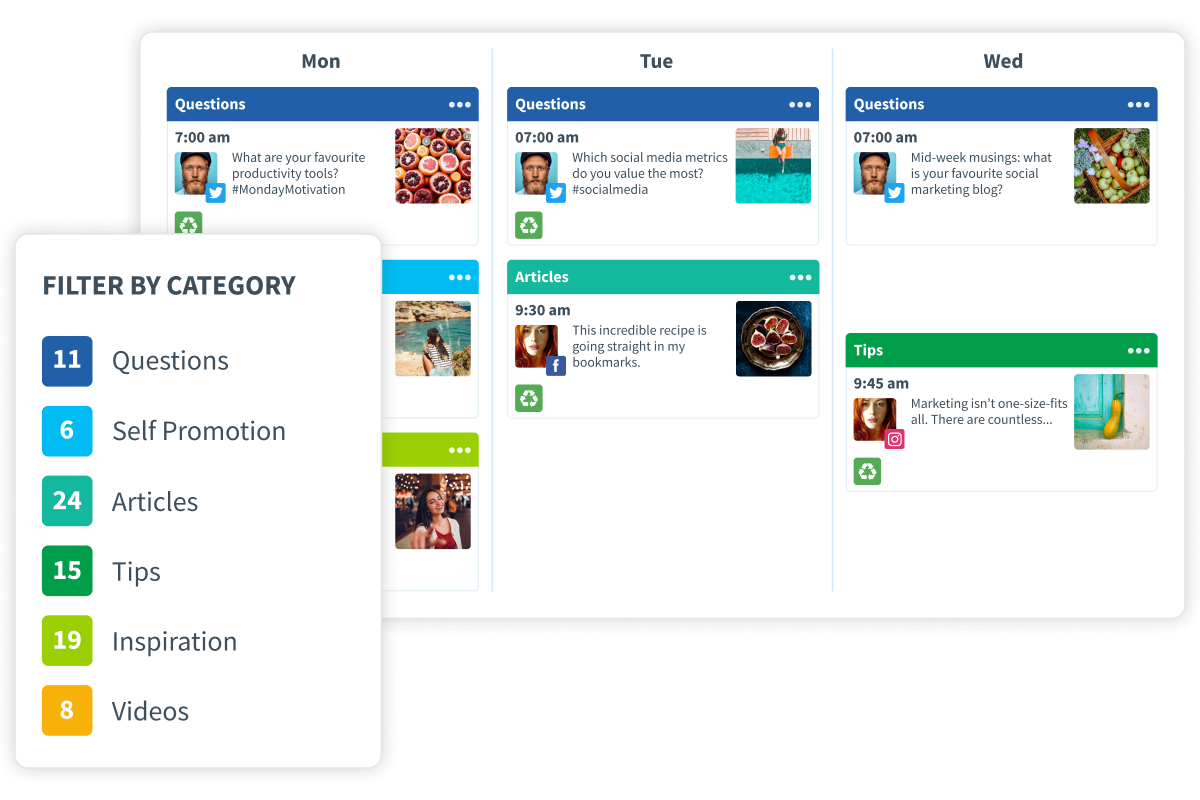 With some of our brands, we don't need to update what we're doing. We still add new content, but now there is no pressure to produce new content all the time.
With SmarterQueue, we have saved money on wages, time and mental thinking power. SmarterQueue is like having an additional person on the team.
Our social media channels now manage themselves. If our social media manager had to take the week off sick, I wouldn't have to jump on every single channel to figure out what is going on. It simply manages itself.
Of course, we still need to update our social media, because that's the nature of the beast: however, we now have one team member do that on a Monday and have the rest of the week for other tasks.
When we use SmarterQueue to share posts linking back to our website, we see an incredible amount of traffic coming in.
Because of the nature of our business, we're not allowed to sell on Facebook, but the revenue generated from traffic alone pays for SmarterQueue.
I set up SmarterQueue myself, which was so simple. We actually had a complete social revamp based on SmarterQueue's Analytics, which I gave to an apprentice – this shows just how easy it is to use.
As a business, we get the most value from the pure ease of SmarterQueue. When the marketing team takes a week off, I'll see a reduction in newsletters going out and a reduction in the amount of SEO friendly content, but, I wouldn't see a single thing change on our social media presence.
Who would you recommend SmarterQueue to?
I'd recommend it for anyone who has more than five social media accounts.
If you're a social media manager, SmarterQueue is perfect because you immediately see the benefit of re-sharing highly clickable content. You can easily see when an image or post is going to do well – SmarterQueue makes sure that you don't just post it once and never see it again. You are able to post it, then let SmarterQueue use this content again two or three months down the line automatically for you.
One more thing… I really love the communication with the SmarterQueue Team. There have been times where Facebook itself has gone down and I have never seen anything go wrong on SmarterQueue's side. The SmarterQueue Team are incredibly hardworking, whenever we send a message we get a response so quickly which is always genuinely friendly and personable.
I would 100% recommend SmarterQueue!