Engagement and reach – they're two of the social marketer's holy grail metrics.
The social networks know this, and yet they don't make it easy for us. In fact, according to the latest research, the average organic post on Facebook reaches a mere 6% of your audience.
Just look at the 2019 data:
This is down from last year –– and will only keep dwindling as we're forced to spend more advertising dollars.
So how does the Facebook algorithm determine who sees my post?
It's based on what Facebook calls ranking: here's a video explainer, straight from the horse's mouth:
As you can see, whether a post appears in someone's newsfeed depends on many different variables: how new a post is, what kind of connection the Facebook user has at the time, what or who they usually tend to engage with. All this comes together to create a relevancy score.
Okay, so there's a lot of variables at play. And with over 60 million active business Pages, quite a lot of competition for users' attention.
But you don't have to settle for 6% reach!
What if we told you that you could get 10-20x more reach and engagement, with one simple trick?
Boost engagement and reach on social media with SmarterQueue's Evergreen Post Recycling.
Click To Tweet
Think about it. If you post a great piece of content once, and only 6% of your audience sees it, what about the other 94%? They need to get in on the action too.
With SmarterQueue's powerful Evergreen Recycling features, you can set a post to constantly be re-added to the bottom of your Queue, so once it's posted it goes back into your content Queue, ready for its second (and third, and fourth…) outing.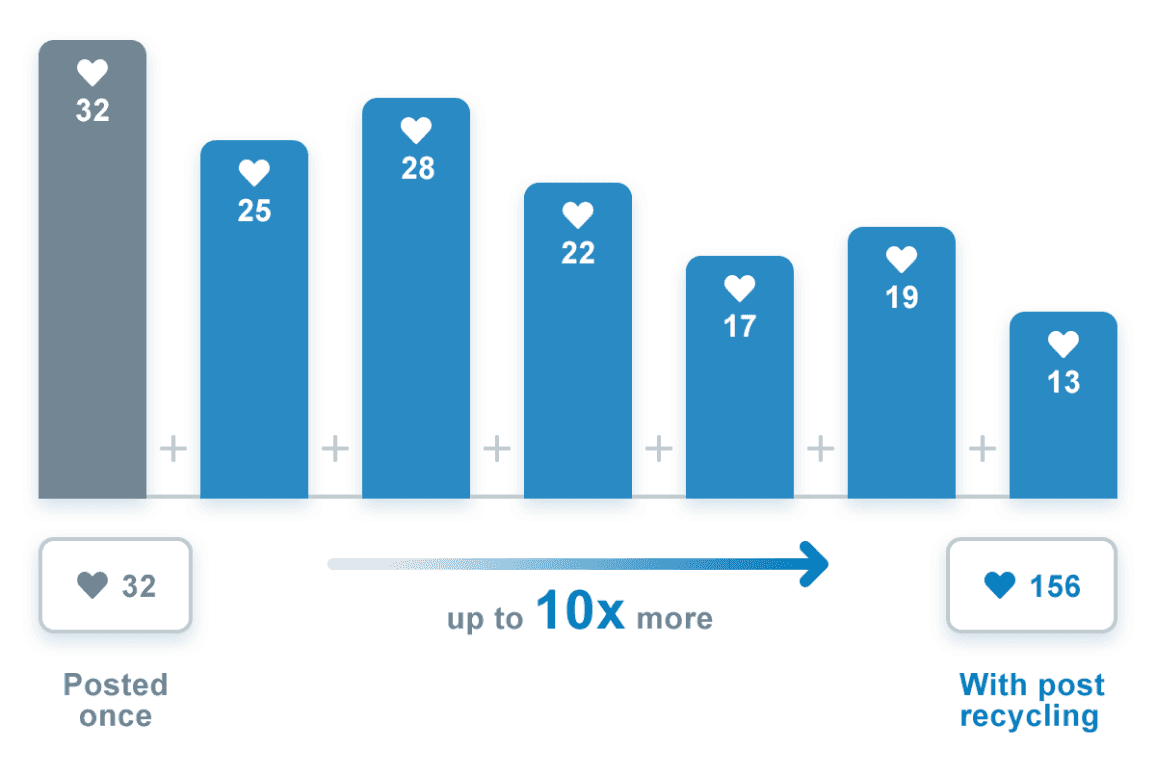 It'll reach different parts of your audience each time, building up new Likes, shares, on every repetition.
Just look at this example from one of our SmarterQueue customers. Each row shows an individual instance of an Evergreen post, and the corresponding Likes and Retweets. As you can see, the numbers vary each time, adding up what we refer to as the SmarterQueue Boost: the total increase in results versus if you'd only shared it once.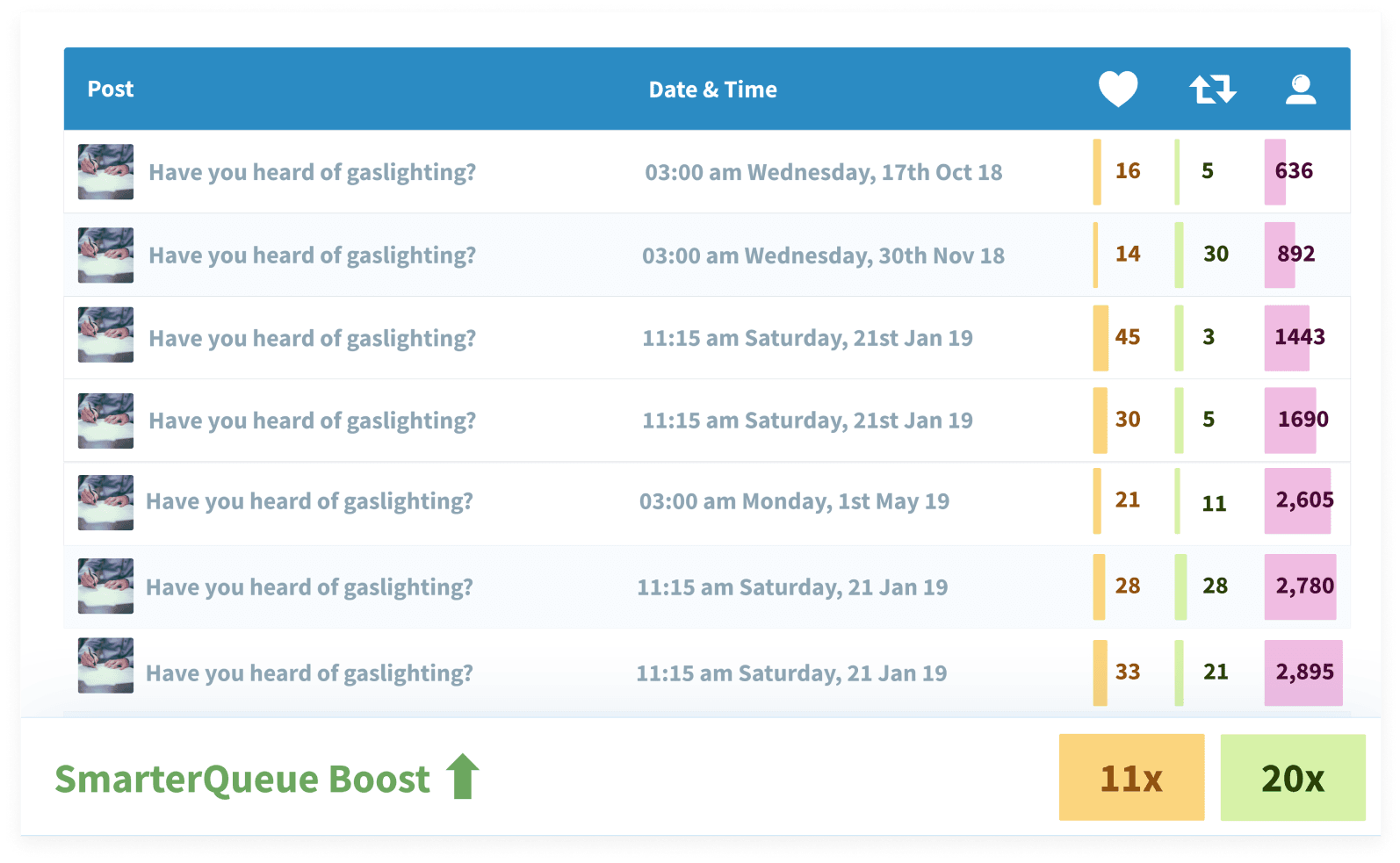 When you publish an Evergreen post, you have lots of controls to ensure it behaves exactly as you want it to. You can specify:
A total number of times for it to post
Whether it should carry on infinitely
…Or expire on a certain date
"Want to keep repurposing the same content without it looking like the same old thing each time? SmarterQueue is the answer. You can add different text variations to each image or post so it looks fresh each time!"

Diana Kennedy, Blogger & Freelancer

But is it OK to post the same thing again and again?
Here are some quick tips on how to be a master of Evergreen Recycling.
Make sure you have plenty of content scheduled. You still want to give your audience variety, so if you have lots of Evergreen posts in the Queue, you'll be set.
Create Variations of your Evergreen posts. Yup, we've baked in a handy little feature called Variations that allows you change subtle (or not-so-subtle – totally up to you!) aspects of your post, to change it up each time it's published. For example, adding in multiple image options, or changing the text, emojis or even hashtags. The possibilities are, quite literally, endless.
Use the Auto-RSS feature to automatically import blog posts. This way, you'll never run out of content again –– fresh posts from any RSS feed you choose will automatically add themselves to your Queue.
Best of all? You can try SmarterQueue's Evergreen Recycling features –– and the rest! –– for free with a two-week trial now. Get started now!
Got any questions about how it works? Let us know in the comments below!