It's safe to say that 2020 has been a year like no other.
Every year, Twitter releases a report looking back on the iconic trends, memes, and moments that dominated each month.
Despite most of us being glad to see the back of 2020, there were many moments that are worth revisiting.
Social media connected us all this year to help us make light of an "unprecedented" (remember that word?) situation, as well as bring us together over political and human rights issues.
The Most Retweeted Tweet of 2020
With 7.6M Likes at the time of writing, we all collectively mourned over the announcement of Chadwick Boseman's untimely death. It was the most retweeted of the year, and the most liked Tweet of all time.
The Most Tweeted About People of the Year
The death of George Floyd sparked an enormous movement globally, making him the third most Tweeted about person worldwide, only behind the President and President-Elect of the United States.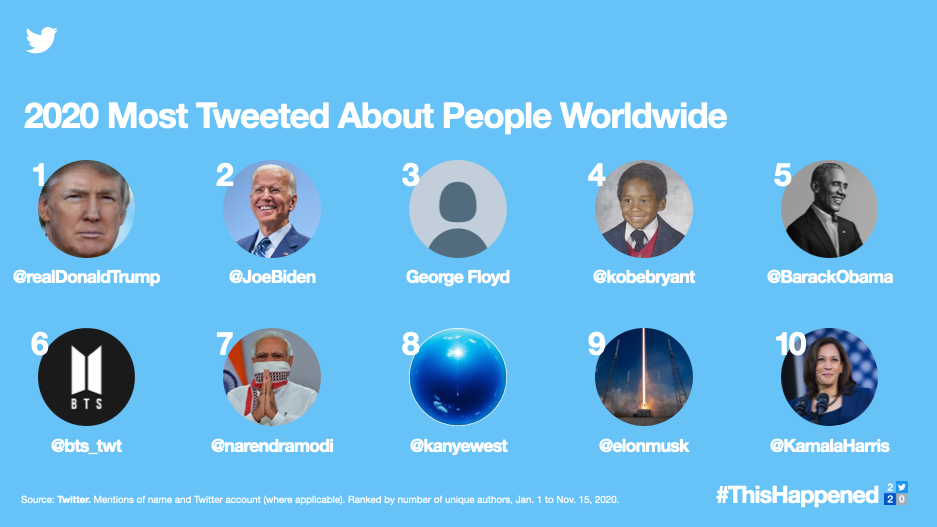 We turned to Twitter to debate and demand action from world leaders. Over 700m Tweets were published about elections around the globe, resulting in political figures sitting prominently among the top 10 list of globally-discussed people.
The Most Popular Topics of 2020
No prizes for guessing that the most popular hashtag was…. #Covid19, with a huge 400million uses throughout the year.
#Covid19
#BlackLivesMatter
#StayHome
George Floyd's death continued to impact global conversations through Black Lives Matter, with protests taking place all over the world.
How We Passed the Time At Home
As for what we did to keep ourselves entertained –– you guessed it. Tiger King's up there in the top 10 TV discussions worldwide.
And cooking became one of the most popular pastimes, with cooking-related hashtags almost tripling.
The Most Popular Emojis of 2020
Finally, let's take a quick peep at the most popular emojis. It looks like the only option we had this year was to cry with laughter – else we'd just be crying.
Side note: How did the mask emoji escape the top 10? 😷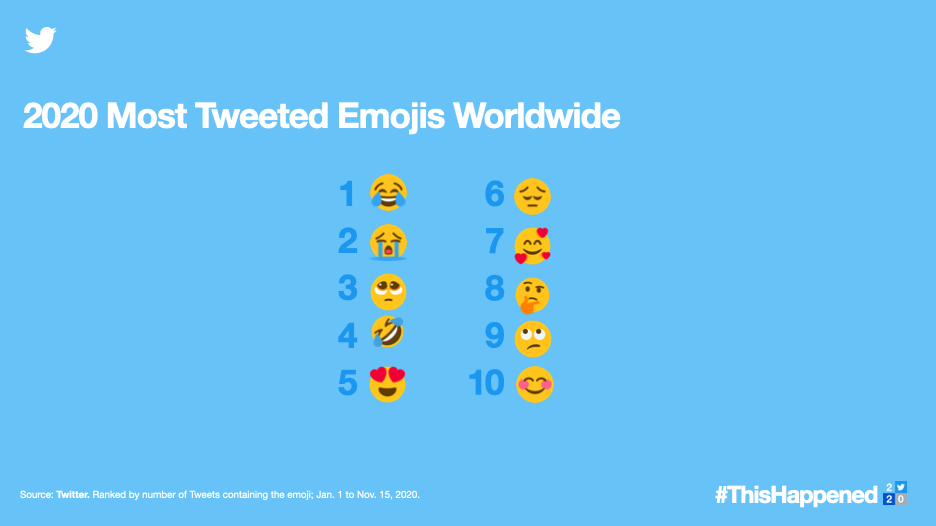 Check out the rest of the list over on Twitter's 2020 blog post.
Want More Social Media Tips for 2021?
We've contributed our best advice to Envato's 15+ Expert Tips For Building a Strong Social Media Presence in 2021.
If you're looking for more lighthearted content that emerged from the Coronavirus crisis, check out our blog post on The Funniest Coronavirus Memes.