Got a great piece of content? Want to share it on all your social platforms, like, now?
Whoa there.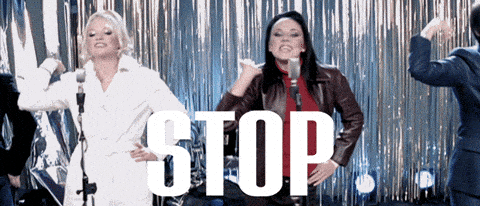 It can be so tempting to forget about the next part – but it's so important, and will make your content work harder, get it seen by more people, drive more engagement and increase the amount of content you have to share.
If you really want to get the mileage out of your content, you need to think about bespoke ways to share and repackage it for different audiences and platforms.
The best part? It's fun! All you need to do is make sure you've got the time to think carefully and pre-plan it.
Instagram Stories 📖
The Guardian uses Stories simply and effectively to communicate news stories in digestible forms that are a pleasure to tap through. This example simplifies the article they're promoting into a visually engaging and succinct few frames, with the CTA to swipe up to read more.
Don't have 10k followers, so no swipe-up feature? No worries! This content is self–sufficient: it actually doesn't require a swipe-up, so think about how you can add value to your audience even if you can't direct them to your site.
Swipeable carousels 🎠
This article about content planning for June inspired us to create a swipeable carousel, giving our audience some inspiration without having to leave Instagram.
Make it interactive. Instead of a simple image post, with a 'link in bio', why not keep the engagement on-platform? Encouraging users to scroll through gives your Instagram feed an editorial quality, and inspires your followers without them having to try and navigate their way through to your profile to find a link in the bio which may or may not be up-to-date (c'mon, we've all done it).
Don't be afraid of a lengthy caption! If they're interested, they'll click to see more. A well-crafted Instagram caption is a pleasant addition to the visual platform and because you're not asking people to click to read more, you can create a well-rounded story in its own right.
Why not try redesigning your article for an interactive feature using a carousel? The Fader don't just take highlights: in this example, they've taken a whole story and redesigned it to sit natively on the platform.
Creative Tweets 🎨
Twitter's great for writing creatively, as it allows you more room than other channels. You've got 280 characters to play with, and whatever you choose to squeeze in that space won't be cut off by pesky truncation (incidentally, what a great word).
So have fun with it! It might sound simple, but line breaks, new paragraphs and emoji-bulleted lists really help make your Tweets stand out on crowded Timelines.
See how much real estate this Tweet takes up? We've taken the core message of the article we're sharing and repackaged it, taking care to tease a bit of the content, and make people want more.
Polls 🗳
Think about how you can use a social platform's interactive features to continue on the same topic. Could you use the results of this poll to inform a future blog post or inspire conversation?
Video 📹
Videos don't need to be complex or high-production to be valuable and engaging. Take this simple example from Headspace.
Quotes 🗯
Is there a great quote from the content you're sharing that you can make into a bespoke graphic?
Newscred do this brilliantly. Instead of simply relying on the default options, they'll create a couple of different assets to accompany the article, which they can switch up each time they share it.
Pro Tip: Use SmarterQueue's Variations feature to schedule all of your different assets at the same time, and they'll be evenly spaced out as per your Posting Plan. See some tips and hacks for how to use Variations here.
Infographics 📊
A well-designed Infographic is a great way to get your content placed in publications related to your chosen topic. It's also worth designing bespoke vertical graphics for blog posts in vertical form to share on Pinterest.
….Then, test and learn!
Keep track of which content types your audience responds to. You can A/B test the different formats in SmarterQueue and optimise your content strategy accordingly.
What are your tips for repurposing content for social? Have you got any tricks up your sleeve you can share with us? Let us know!