Does your content strategy need a bit of a 2020 shake-up? Is what you're doing working, but could be working better? Or are you flying by the seat of your pants, hoping for the best and it's not paying off?
Either way – you're in the right place. We've researched the main pain points that marketers cite when it comes to implementing a successful content strategy, and have come up with some actionable steps to ensure you can succeed in 2020 and beyond – as well as a free content calendar template for you to use.
Only 44% of B2B content marketers have a documented content strategy.
Trying to succeed without a documented content strategy is like flying a commercial plane without a destination in mind. How are you going to know when you've arrived? How are you going to pick up any passengers if they don't know where you're going? How do you know if you're taking the best route? How do you know if you've got enough fuel to get you there? (You get the point.) ✈️
Aimlessly drifting is not the way to produce consistently great content that will get you results. You need to know what you're aiming for, in order to continually map your progress and stay on track.
Simple, right?
Well, often, marketers have doubts or concerns about how to formalise their strategy. We're marketers, we get it, too.
What are the top three barriers to having a content marketing strategy? According to Content Marketing Institute:
Lack of time (69%)
Producing enough content (55%)
Producing engaging content (47%)
One by one, we're going to look at these barriers, and give you some great tips and insights into how to overcome them in order to produce a content strategy that will make each step easier. We promise. It'll just take a little bit of groundwork, which you can use the free content calendar template to help with.
Kickstart your content strategy with a free content calendar template and time-saving tips
Click To Tweet
In this article, we're going to dive into barrier #1:
Lack of Time ⏰
With a little pre-planning, even the most time-poor marketers can get on top of this. Are you juggling several roles at once? For example, social media manager, community manager, marketer and on top of that, startup founder? Or perhaps you're a small team with big ambitions. Either way, it can be challenging to find the time to pour into content when so many other aspects of the business are important.
Lack of Time – Solution #1: A Content Calendar 📅
If you spend just 30 minutes at the beginning of the week or month to fill an editorial calendar out for the week or month ahead, trust us – it'll save you time in the long-run.
If you do all your research on a Monday morning, then you're set for the week and can simply consult the editorial calendar each time you need to create a piece of content – no more frantic browsing or panicked searches for keywords. It's all there for you. In a perfect world, you'd have this set up for the following week or month, so you're not working day-to-day.
We've created a downloadable Content Calendar Template that you can duplicate for your own business.
Here's what the columns are for:
Due Date: The date you need to have the content finished. Even if you're a one-man-band, it's important to stick to deadlines for your content, so you have enough time to pass it over to other departments (like design, for any supporting graphics), or for proofing.
Publish Date: This is the date you want your content to go live. Imagine that, having content ready in the pipeline ahead of time!
Topic: Here, you can choose a drop-down to assign your piece of content a topic. You can easily change the preset topics to your own (instructions are in the template). Haven't thought about your topics? Well, now is the time. Use our presets as inspiration, and adjust them for your own niche.
Title: This is a working title – when you draft your content, this may well change, but it's good to have an idea of what your content title will be when you're in the planning stage.
Type: Another dropdown for you to choose from: longform, shortform, Q&A, interview, video, whitepaper, listicle – again, you can adjust the options to better match your options. Or, perhaps these will give you some inspiration!
Content Details: This is where you can document your idea in a little more detail. For example, if you've just had a bolt ⚡ of inspiration for an article, instead of scribbling it down in your Mac notes, just write it down here. For example: A long-form article about kickstarting your content strategy, with a downloadable editorial calendar.
Keywords: This is where you include the SEO keywords you're planning to use for the content.
Design Needed: An excellent way of preplanning design resources. Think about whether you'll need supporting imagery that you'll need an expert to create. For example, an infographic, or making graphs come to life.
Objective: What's your goal with this piece of content? Is it signups to try your product? Is it lead generation? Or are you driving traffic to a landing page of some sort for a campaign? It helps to have that focus when you're writing your content so you can ensure you don't go off-track.
Target Audience: Similarly, it helps to have the target audience in mind when you're writing. If it's a whitepaper on in-depth data analytics, the audience will likely be different to a listicle on influencer marketing dos and don'ts.
Link to Task: If you use a project management tool like Asana or Trello, you can link to the task here.
And finally – the checkbox! Because we ALL love ticking things off to-do lists. Don't even pretend that you don't!
Lack of Time – Solution #2: Less is More.
Do you feel overwhelmed with the amount of content you're asking yourself to produce?
Re-evaluate your targets and opt for quality over quantity. Instead of churning out five bitesize pieces of content a week, focus on two well-researched, in-depth pieces that will perform well in Google search results.
Long-form content gets an average of 77.2% more links than short articles.
Exhibit A: Longer content dominates page one of Google search rankings.
So, it'll not only be better for your to-do list, your efforts will be rewarded by the Google Algorithm.
How to Identify Your Topics: A Quick Guide
Look at your best-performing content
Use a tool like Google Analytics or Amplitude to identify your top-performing blog content. Ask yourself why it's performing. Is it the subject matter, a captivating title, the length, the format? You might need to do a bit of digging to determine why those posts have been most successful. Then, use your findings to come up with new ideas that you know your audience will be into.
You can also analyse your top-performing social posts with SmarterQueue to give you an idea of what your social audience enjoys reading.
Use a tool like Buzzsumo for Content Inspiration
Take your topic, and enter it into Buzzsumo's Content Analyzer to identify the top-performing content on the web, sorted by social shares. This should give you plenty of inspiration for new ideas that will perform well.
You're limited to four free searches a day on Buzzsumo's free version, so use those search times wisely!
Run a Google Search with your topic idea to find alternative keywords
At the bottom, you'll see related searches, which will give you ideas for keywords and alternative angles, based on real users' search history.
Don't forget to plug all your ideas into your free Content Calendar template!
Lack of Time – Solution #3: Scheduling Your Social Media Content
OK, so once you've produced your content, you need to distribute it on social media. It's important to remember that this is a vital step in getting your content in front of the right people. And with a bit of groundwork, you can keep your content working hard, long after you have – saving you time in the long run.
Here are three simple principles to remember, which we'll break down in detail below.
Publish your content multiple times
Adjust the messaging for each social platform
Create Variations of your social posts
Publish Your Content More Than Once
If you're not currently recycling your content, you're missing a trick. With organic reach at an all-time low, each time you post on your social platforms, you're only reaching a fraction of your audience.
SmarterQueue makes it ridiculously easy to get your content seen by more people, without you having to lift a finger. 👌
What is Evergreen Recycling?
Evergreen Recycling is a method of automating the process of your social posts republishing on your social channels. With the decline of organic reach on all social platforms, it's vital to recycle your posts to ensure they are seen by the maximum amount of your audience.
By using SmarterQueue for social media management, you'll have a range of options to recycle your social posts.
When you publish a post for recycling, you have lots of controls to ensure it behaves exactly as you want it to. You can specify:
A total number of times for it to post
Whether it should carry on infinitely
…Or expire on a certain date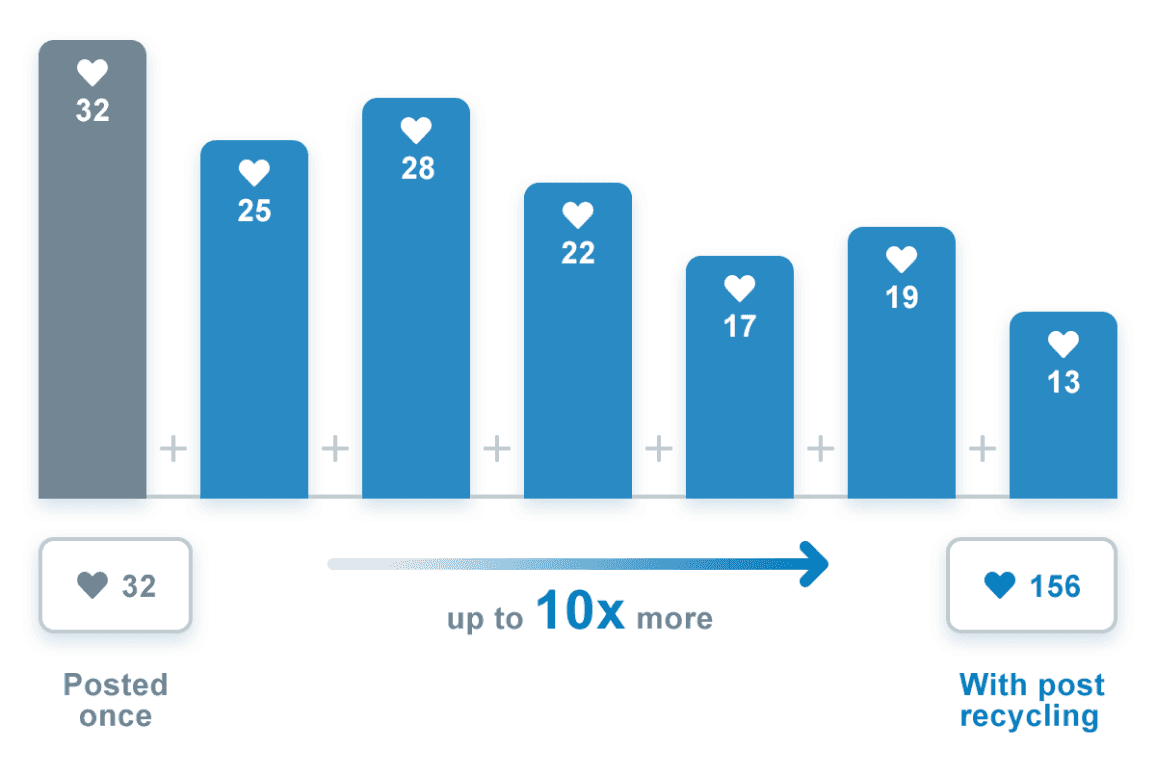 On average, using SmarterQueue saves you eight hours per week! Give it a try today for free now and see how much time you could save on social scheduling, content curation, and analysis.
Adjust the Messaging for Each Social Platform
Each social platform is different, with its own set of guidelines, audience types and 'cultural' styles. For example, Twitter is great for higher volume, shorter, conversational or newsworthy updates, whereas Instagram is a visual storytelling platform that allows for longer captions than would be possible or appropriate on Twitter.
When you schedule content through SmarterQueue, you can create posts for all your social channels at once, tailoring the content for each platform in one effortless Post Editor.
Our blog post Why You Need Custom Text for Each Social Platform outlines exactly how you should differentiate your messaging for each unique platform.
Create Variations of Your Social Posts
Recycling your social posts doesn't mean you have to publish the exact same content each time. SmarterQueue allows you to create any number of media and text combinations for your posts – Variations – so each time they republish, you'll have an alternative post.
This is great for keeping your audience interested, as well as providing ample opportunity for A/B testing what they respond well to.
How will this save me time?
It can sound counterintuitive to save time by producing more messaging – but we're playing the long game, here. When you're scheduling your posts, by adding multiple copy and media options, you're prioritising your future content schedule by dedicating a bit of time upfront to make sure your content has longevity.
Using SmarterQueue's Recycling and Variations Features Fills Up Your Content Queue, Fast.
Create a copy of our free content calendar template, fill it with quality-over-quantity content ideas, and distribute them on social media quickly and efficiently with SmarterQueue.