Are you looking to upgrade your social media management tool? Perhaps you don't use one at all yet? Either way, there's a ton of reasons to use SmarterQueue – the first 13 of which we covered here: 13 Killer Reasons to use SmarterQueue.
Want more convincing? OK, we got you. Here goes – even more reasons you should be using SmarterQueue for social media management.
You'll Boost Engagement by 10x. Or More. 🙌
Say what? Yup – just listen to our client Audra Leigh's results:
"Within the first month of using SmarterQueue for social media management we saw a 25% increase in engagement."

Audra Leigh, Digital & Social Specialist, Solar Gard
When you use SmarterQueue's Evergreen Recycling feature, your content gets seen by more of your audience than if you were to only post once. And it's so easy to set a post to recycle!
You'll never run out of posts again.
Here's how an Evergreen post works, in its simplest terms:
But did we stop there? Of course we didn't!
You can choose how many times the post recycles. You can choose a specific date for it to expire on.
You Can Create Variations of Your Evergreen Posts 🌈
Yup – you can set up Variations of your Evergreen posts so you're not repeating the exact same wording or imagery each time.
Within the Post Editor, you can create as many text and media versions of a post as you like, keeping your social feeds fresh and enticing, and also enabling you to A/B test which copy or visual is the most engaging.
Some examples of how you might use Variations:
To A/B test different visual assets
To A/B test different messaging
To fill up your Queue fast with multiple text/media combinations
To recycle posts without breaking duplication rules
You Can Drag and Drop to Create Your Perfect Instagram Grid 🖼
Instagram is arguably the hardest social platform to get right – it takes a certain amount of planning to craft a compelling and cohesive visual identity.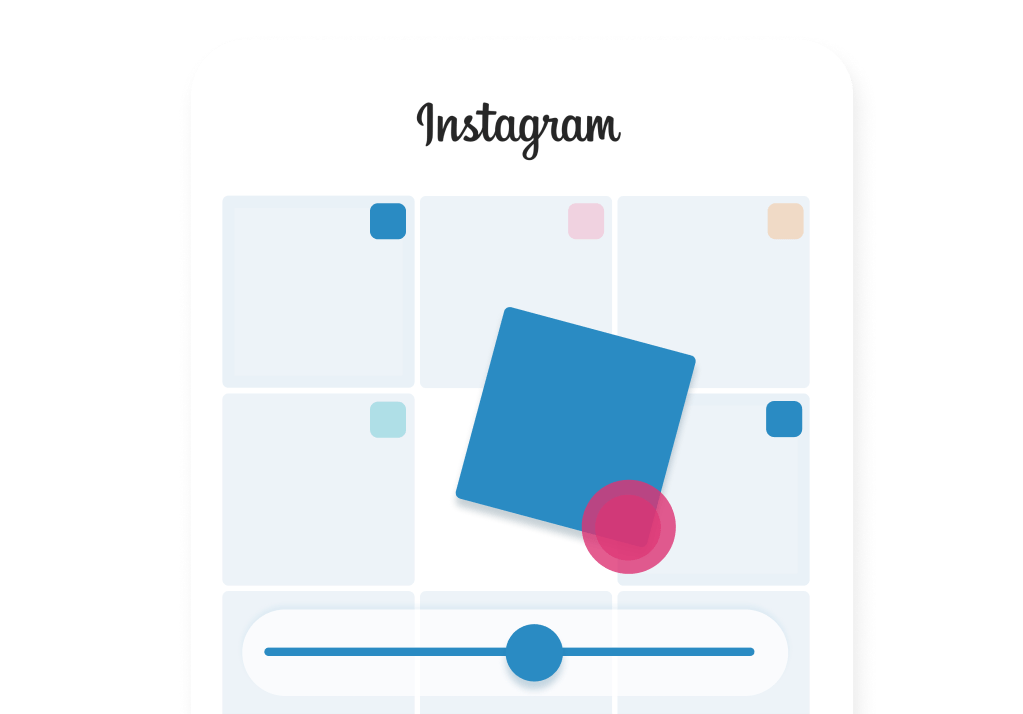 Visually Plan, Schedule & Rearrange Your Instagram Feed
The Visual Instagram Planner allows you to:
Preview your Instagram feed
Drag and drop to rearrange your grid
Use the Grid Shift slider to see how your feed will look on a specific future date, or after your add more posts.
"SmarterQueue's Visual Instagram Planner has been a game changer for me. I'm not naturally artistic and have often gazed longingly at other people's feeds wishing I could have the same. This has made it easy and fun to curate a feed that looks super professional. For the first time ever I'm receiving compliments about the way my feed looks. I'm delighted!"  

Lisa Welsh @itslisawelsh 
Your Queue Will Be Constantly Replenished… Without You Lifting a Finger 👍
All you need is an RSS feed, and you can set up SmarterQueue to automatically pull in new blog posts, and either auto-share them, save them as a draft or add them straight to your Queue.
This will make your weekly social media scheduling even easier, taking the manual work out of sourcing blog content to share: it'll appear directly in your Queue for easy editing, or simply auto-publishing as it is.
There are tons of advanced options (we've thought of everything!) to make the process as flexible as possible.
You Can Like & Retweet Posts from Within SmarterQueue ⚡️
From within SmarterQueue's powerful Find Content area, you can not only uncover engaging content to add to your own Queue, as detailed here in our ultimate guide to content curation, you can engage with the posts themselves as any of your connect profiles.
Like what you see? Don't forget to check out 13 Killer Reasons to Use SmarterQueue for even more proof that we're the social media management tool you really should be using. ✌️
Any features you'd like to see? Let us know below! 👇