Looking for some inspiration for your Halloween social campaign? Look no further!
Here's a scary fact: US consumers spent, on average, $9 million last Halloween. That's a lot of pumpkin spice lattes, costumes, and candy. It seems we just can't get enough of this annual holiday.
So how can you leverage this ghoulish obsession and turn it into sales for your brand?
Here are some awesome examples of Halloween social campaigns that got it right.
1. Fanta Uses Youtube 360 Video for 13th Floor Campaign 🧛‍♂️
Fanta set about creating a fully immersive experience for this creative Halloween social campaign, describing it as its 'biggest ever' marketing campaign created for the spooky season.
This virtual-reality experience, which won a MediaWeek award, was set in both Westfield in London's Stratford and Thorpe Park for two weeks, and – crucially – was filmed for Youtube in 360 video in order to be able to freak out a wider audience.
Experience it for yourself here:
Fanta's intention was to make the brand more appealing to 16-19 year-olds, so its location choice of theme park and shopping centre was perfect to reach the target audience.
Visitors to the installation, some who queued for two hours, wore VR headsets as they stepped into a lift which took them to a Halloween party on the 13th floor. Guests were then plummeted into the depths of the building, with a terrifying experience awaiting them on each floor.
Why it worked: The social content produced during the experience meant that their message travelled further than just to the lucky few who got to experience it in person. Gifs, stills and reaction videos drove traffic to the 360 Youtube video, and Snapcodes on special-edition Halloween Fanta cans unlocked scary Snapchat Lenses.
Sales of Fanta rose 14.5% year-on-year. We'd say that's a pretty spooktacular result!
2. Uber's Sweet Partnership with Hershey's 🍫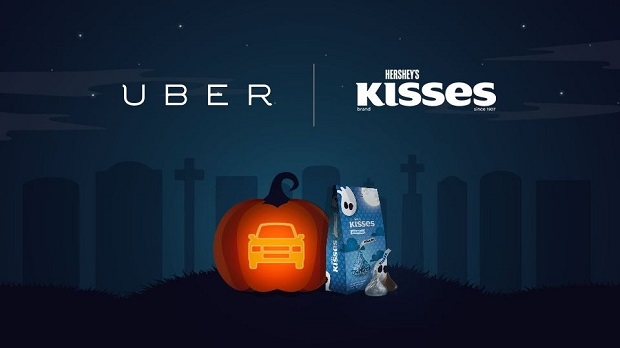 For chocolate or sweets (candy, to you US readers!) companies, Halloween is kind of a big deal.
A co-branded venture between Uber and Hershey's ran for one day on October 30th.
Uber customers could simply press 'Kisses' on the app, and an Uber driver would drive to their door with two packets of limited edition Hershey's kisses.
Why it worked: The surprise-and-delight campaign is a good one because people are driven to share the experience by virtue of it being so, well, delightful! Recipients posted pictures on Instagram and Twitter using the hashtag #UberKisses, driving positive brand sentiment for both Hershey's and Uber.
3. Svetka Vodka's Curse of the Banner Ads 👻
We love this creative, playful use of retargeting ads by Svetka Vodka. We've all been there: looked at a product once, then been hounded by its remarketing ads everywhere we go on the internet. Well, Svetka decided to acknowledge this collective experience by subverting it for a clever Halloween campaign.
After clicking an ad for cocktail recipes, a video inspired by The Ring appeared, informing the viewer: "By watching this video, you are now cursed with hellish ads…"
Its victims were then treated by terrifying ads via retargeting, everywhere they went.
Why it worked: We loved this because it added a fun, playful dimension to an existing ad format. It stands out among a sea of more traditional product ads, positioning the vodka brand as daring and innovative.
4. Tinder for Cats 🐈
It's a well-known fact that black cats are, all too often, the ones left behind at the animal shelter. It takes 30.5% longer to rehome a black cat, according to RSPCA data, than a tabby, and 70% of the RSPCA's cats are either black, or black-and-white.
So, the design agency Dare decided to create a Tinder-style app to help people find matches for black cats that need rehoming.
On the occasion of Halloween, Dare has created a dating app for cats. We want to raise awareness that all of our fluffy friends deserve to be matched with loving homes, no matter the colour of their fur coat.

Dare
When users swipe on the black cat named Scare, they have the chance to participate in a chat with a "cat-bot." 🐱
The app encouraged donations between Battersea Dogs & Cats Home, Cats Protection and Blue Cross.
Why it worked: This idea gave the agency a chance to showcase their creativity, driving positive PR for their prowess as a creative agency and simultaneously raising money for the internet's favourite thing: cats.
5. Three's Influencer Campaign
Three decided to harness the power of influencers to promote their #PhonesAreGood campaign, which set out to defend the use of phones in modern life.
The campaign showed how pivotal moments in history would have been different if phones had been around. The Titanic's fate could've been very different if the captain had been able to check the ice forecast on his phone!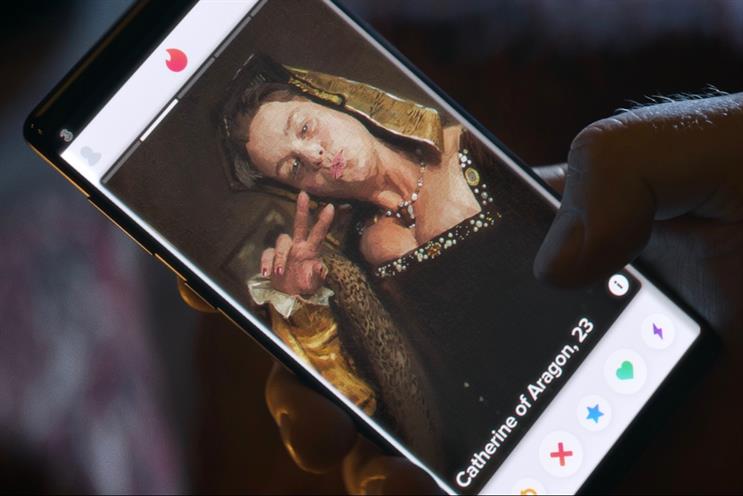 The TV campaign was supported by an influencer campaign on social media, which challenged three famous phone addicts to survive without their phones for a day in a social experiment titled "Oh the horror".
Why it worked: Three has consistently broken the mould with its creative ad campaigns, and this one is no different. Challenging the current narrative that phone use is damaging our health, Three boldly decided to create a tongue-in-cheek campaign that targeted an audience of phone-lovers, to try and win the much-desired youth market. The use of influencers and social video to support the wider campaign was a smart move that will have helped them reach their target consumer.
Seasonal Campaign Scheduling
Seasonal events like Halloween are a great opportunity for marketers to tie creative campaigns in with.
Using a social media scheduling tool like SmarterQueue takes the hassle out of manual scheduling, automating your seasonal campaigns effortlessly – no need to remember to switch your campaigns on and off. Find out more and sign up for a free trial now!
Have you been inspired by any of these campaigns? Have you got any awesome seasonal campaigns to share with us? Let us know in the comments below!