Are you using automation enough in your social marketing efforts? Could you be saving hours of time each week on menial tasks? We've come up with five absolutely essential social media tasks to automate, so you don't waste a second more!
Automation doesn't mean stagnation!
You can still be creative and think outside the box, even when you're using tools to automate marketing. Just think – with all that time freed up from the admin tasks, you can focus your attention on brainstorming clever ways to attract new leads.
We've come up with five ways you can automate social media tasks, and how to ensure you remain creative while doing so.
What exactly is marketing automation?
To put it simply: marketing automation is getting software to do the things that you don't need to do yourself. Within marketing, it can span:
Social Media Marketing
Lead Nurturing
Lead Generation
Email Marketing
Metrics and Analytics
Management Activities
For the purposes of this article, we're covering social media automation ideas to make your marketing effortless.
1. Recycle your social posts to reach more of your audience and maximise visibility of your content
This is a no-brainer, but we're going to level it up.
If you're not recycling your social posts, it's time to start doing it. Like, now. Scheduling your posts through a tool like SmarterQueue allows you to flag 'Evergreen' content so it can be posted more than once.
This chart shows what can happen when you recycle your posts: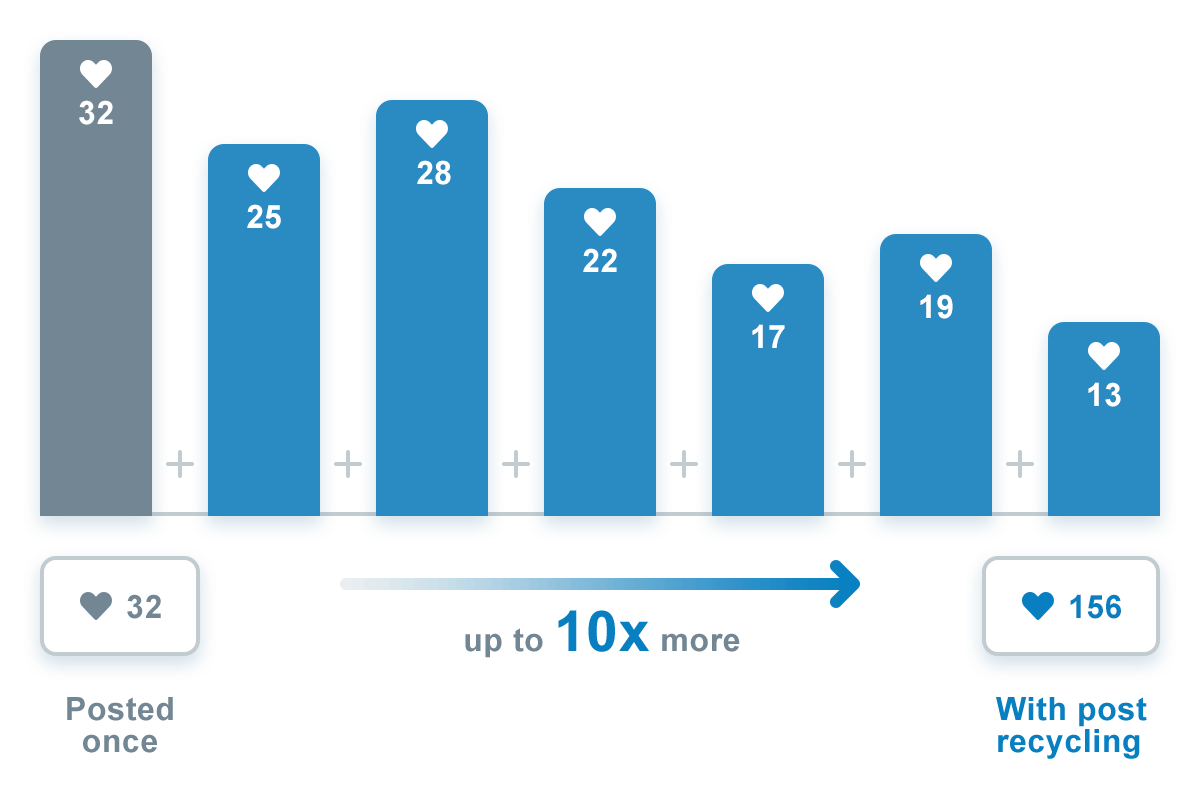 What is Evergreen content? Simply put, it means content that isn't time-sensitive and can be re-shared again and again.
Now, here's where to innovate as you automate. Instead of just recycling the same old post each time, you can change it up with Variations.
Add multiple image options to your posts, so each time it's recycled, it's different. Maybe you'd like to use a gif one time, a static image the next? Perhaps you've got three or four campaign images to go alongside the post? As you're scheduling your post, you simply add these options as a Variation, and each time the post is published, it'll be different.
You can also do the same with your copy. Instead of having the same copy go out each time, you can add multiple copy options, to adjust the messaging each time.
Do you know what the best part is? You can combine the two – so if you have, say, three different copy options, and four different image options, SmarterQueue will automatically mix it up and create different combinations of posts, so you'll never have to worry about repetition!
By creating 11 different pieces of content (5 text + 6 media, or 6 text + 5 media), you end up with 30 unique posts!
Awesome, hey? Find out how to do Variations here with our in-depth guide.
2. Stand out with seasonal content 🍁
Seasonal content marketing is an awesome way to add variety and capture (or recapture) your followers' attention.
Seasonal marketing campaigns, planned in advance, allow you to be there when people are open to offers. Think about it: Black Friday, Christmas, Cyber Monday: people are ready to part with their cash, actively seeking out offers. So, being ready with a seasonal campaign or offer means you'll have the advantage when it comes to securing their custom.
Here are some ideas to start you off:
Competitions ✨– These always need planning in advance to be effective. Make sure you have a goal in mind and select the competition mechanic accordingly. For example, if your goal is to attract new, relevant followers on Instagram, run a 'tag a friend who might be interested' competition, and make sure an entry requirement is to follow you. Bingo.
Charity partnerships 💰 Pledge to donate a proportion of sales in a certain time period to a charity of your choice.
Countdown ⏳ Have an exciting launch on the horizon? Earmark the lead-up for some intriguing teaser content to generate buzz.
Discounts 💸 OK, this one's obvious – but you can pre-schedule all the posts to promote your offers in one fell swoop.
Instead of having to pre-schedule your posts individually, you can set up Seasonal Categories, add posts to your Seasonal Category Queue, and sit back and relax, safe in the knowledge that the content in that Queue will only be published during the time period you've set.
So technically, you can pre-plan and schedule all of your Christmas content in your 'Christmas' Seasonal Category, have it set to recycle, and swan off to Aruba for December!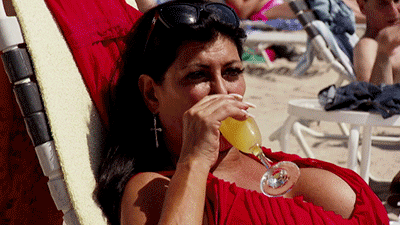 (Just make sure you've got your Community Manager ready to answer all the incoming queries about your awesome offers!)
Find out how to create and manage Seasonal Categories here.
3. Automatically share content from RSS feeds
Are you familiar with the 80:20 rule? In order to succeed on social, you want to be sharing only 20% promotional content, and the rest should be value-add for your audience: entertaining or helpful content that isn't necessarily your own.
But content curation can be a bit of a chore. Which is why we recommend setting up Auto-RSS. This means blog posts from a source will automatically be added to SmarterQueue for sharing to your social channels, without you lifting a finger!
And here's how the magic works…
Choose a blog that you trust and often share content from.
Decide whether new posts to the RSS feed are automatically queued (top or bottom) or saved as drafts so you can customise the content
Choose what profiles and Category they will be posted to
Define what (if any) text is added before or after the link and post title
They will be published according to the Category's posting time in your Posting Plan
You can even define keywords – e.g if you only want posts mentioning 'Instagram'
Each time a blog post is published to the blog you've selected during set up, a post will be created automatically in SmarterQueue!
Neat, huh? Have a full walkthrough here.
4. Add 30 hashtags to your Instagram posts in one click
Hashtags are vital for increasing your visibility on Instagram organically. So make sure you take advantage of the space and add 30 to each post!
If you frequently add the same hashtags to your posts, you can save them as a Snippet, and add them to your post text in one click.
A post with at least one Instagram hashtag averages 12.6% more engagementthan posts without a hashtag.

Simply Measured
SmarterQueue even gives you the option to add five lines before the hashtags, so your caption stands out and the hashtags are hidden.
5. Import past posts to SmarterQueue
Migrating over to SmarterQueue from a different tool like Buffer or MeetEdgar? Wondering how on earth you'll manage to get all your Evergreen content over without copying and pasting?

We've got some joyous news for you. You can import all your posts automatically!
Go to the Find Content page, click in the search bar, and select one of your connected accounts from the drop-down.
Add search filters if you want to find specific posts that contain a word, link, or photo.
Click the Bulk button at the top right, and edit the Category/account for each post you select to import.
Show the Link Options to make sure your links are re-used/updated the way you want.
Hit the Queue button, and all of your posts will magically be imported! 🧙🏼
Get more details on how to migrate your social media content over to SmarterQueue here.
Discover more ways SmarterQueue can help you streamline and automate your social media marketing efforts.
Have you tried any of these social automation tips? Let us know in the comments! 👇